Do you want a free quote on your Camper, including VAT and freight to your home address?
Just put your Camper style and Accessories into the basket, and request a quote.
We will process your quote and return to you as fast as possible.
Variants
All prices are exclusive VAT, local taxes and transport costs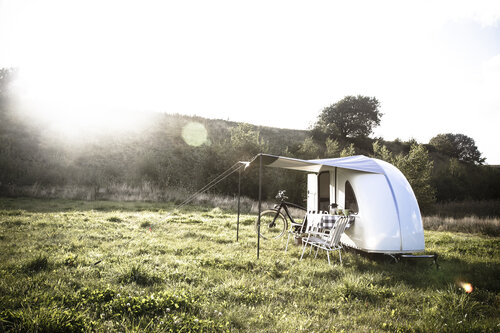 200 x 240 cm
2 light-weight carbon fiber tent poles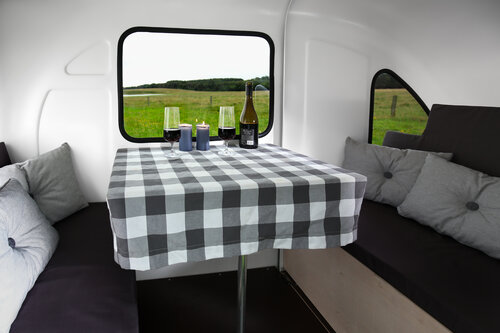 Lux cushions 8 cm thick with cold foam 50kg/m2
Matching design throw pillows
Table cloth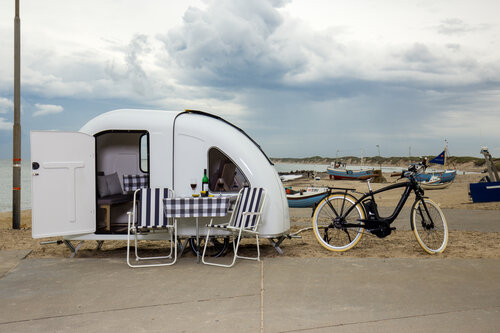 Lightweight table for outdoor cooking
2 light-weight camping chairs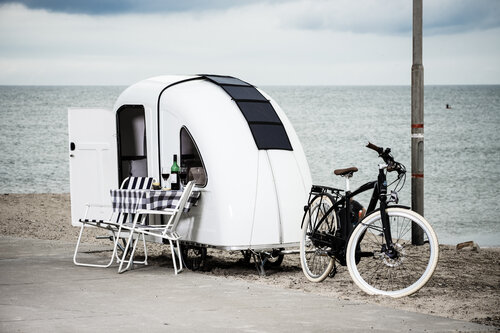 On full charge our package provides minimum
12 h usage of fan and light + 2 full charges of mobile phones
50W quality solar cell
13V 20Ah lightweight lithium battery
3 USB ports for charging + 2 mini USB
LED light
Electric fan for ventilation
Power indicator and main power switch
Control panel on the wall for light and fan
Camp anywhere
This mobile tiny "house" offers instant shelter from the weather, a comfortable bed for upto 2 people, and a convertible space for 4 adults to dine-in, relax, and camp in style.
The Wide Path Campers are not only mini RV's, but a mobile house-party easilydeployed in urban, suburban, and natural spaces. Wide Path Campers are durable,collapsible, lightweight, and surprisingly spacious. The camper's unique shape andhardshell exterior provide a cozy secure feeling inside and a safe place to store your belongings.
With a Wide Path Camper you can enjoy the freedom of camping wherever you pedal.
The Wide Path Camper is small and lightweight, it is only 1,5 m long during transport.
The back of the camper folds over the front,to make it easy to set up. In fact this can bedone in only 3 minutes.
Comes with an easy to use support wheel.
The inside of the camper, offers: sitting area with a table, which can be turned into a bedfor two persons.
There is plenty of storage with up to 300 l of storage under the bed.
Cooking is possible outside with the extra outdoor package.
Standard Equipment
Hard-shell camper, with semi-insulating foam
Shiny white UV resistant surface
Our "easy to use" folding system
Fast setup time (3 min) and no tools needed
Clear windows in shatter free polycarbonate
Sitting area – transformable into a bed
With night stand at head end
Dining table 50×75 cm inside
Bed size 200 x 90 cm
Storage space 300 liters
Standard cushions 5 cm thick, PU 40 kg/m2.
Build-in rail for tent or sun covers
Water resistant plywood floor
Ventilation slot in the front
Dimensions
Bed size: 90 x 200 cm
Unfolded outside (L 285 x H 175 x W 97 cm)
Folded outside (L 149 x H 175 x W 97 cm)
Height inside cabin 142 cm -> Comfortable height for sitting
Floor-over-ground height 50 cm